It Started With a Canoe?
Richard Valdes. The Man, the Myth, the Legend
---
Jim Edwards ('72 Columbia 45 Motor Sailor, hull #23 Front Runner) recently sent me some information regarding the early days of Columbia Yachts. Jim is a professor who teaches plastic materials and their application in design. In 1971 or 72, when he was teaching at Long Beach State University, in Southern California, he and several students met with Richard Valdes at Columbia Yachts in Costa Mesa. Richard Valdes owned Columbia Yachts until he sold the company to the Whittaker Corp.
Jim notes that these are his memories of conversations from 15 - 25 years ago, so there may be some inaccuracies. Here is what Jim has to say about Richard Valdes and the Costa Mesa factory:
Richard Valdes
In our meeting with Richard Valdes he gave us some histroy which may or may not be correct. His version went something like this: Richard Valdes attended UCLA on a Naval scholarship. He and a classmate started a canoe business out of a senior project business class. Upon graduation, they decided to try it out as a first business (Glas Laminates, I assume - Eric) and it took off when Sears placed orders for the new fiberglass canoes. I do recall Richard Valdes speaking about making fiberglass camper shells after the canoe stuff.
Here are a couple of notes from the official Whittaker Corp history ( - Eric):
1967 Columbia becomes a subsidiary of the California based conglomerate, the Whittaker Corporation. I have a brochure from this period and it shows a picture of Dick Valdes, president, with Bill Tripp..
1972 Columbia changes from a subsidiary of Whittaker Corporation to a division of Whittaker Corporation. Evidently, this is when Richard Valdez's association with Columbia ended.
It is my understanding from Valdes that he sold Columbia to Whittaker to provide much needed revenue for expansion. It was in 1975 or 1976 when Richard Valdes left Columbia/Whittaker. Part of the sales agreement was that he stay out of the business for five years, which he did. When the non-compete period ended, he started Lancer Yachts in Irvine, CA.
In 1982, I again visited Richard Valdes at Lancer Yachts. He expressed to me the same story that when he left Columbia, part of his buy out agreement was that he was not to go into sailboat manufacuturing for five years. Later, Valdes left Lancer Yachts and then partnered with someone else to start Endeavor Yachts. Endeavor, I believe, closed in 1989.
Also, as I recall, Richard Valdes' brother was working with him in the early 70s and then left after they sold to Whittaker. His bother the moved to Florida to start Irwin Yachts.
The Costa Mesa Factory
So what's it like in a yacht factory? Jim Edwards took a class on a field trip to Columbia's Costa Mesa factory at 849 West 18th St., Costa Mesa, CA, in '71 or '72. Here is what he has to say:
We then took an extensive tour of the fabrication facilities - molds, cast iron keels, and the process of fabrication. It just so happened that they were producing a 45 when I was there on my first tour. In all I visited the Columbia manufacturing site about 4 times in the earlier 70's and the Lancer facility 3 times in the earlier 80's.
As for the layout of the Cost Mesa facility. It was very large. They had three glassing and assembly buildings. One for the large 40 to 57 foot Columbia's and the other for the small size boats.
The molds were single piece, with the glassed hulls remove from the molds with large overhead cranes. The crane hoist would be attached to the new fiber glass hull while the hull was still in the mold. A lifting force would be applied until the mold and part were slightly lifted, then workers would tap the hull with large rubber mallets to free the part from the mold. The hull and its insert were placed together in the same building and the deck and its liner were also glassed together in the same building. Then after most all electrical, power and cabinets had been installed the two parts were married together using an H type aluminum channel.
I only saw the Columbia 45 being produced. One thing I do remember is when the deck was reinforced with end grain core and then married to its Fiberglas liner, the resin was under catalyzed for a slower cure. However, in some cases the uncured resin was trapped in pockets in the sandwich, and to this day there are times when I can remember cutting into my deck liner on my old Coronado 35 and now my Columbia 45 and running into tacky uncured polyester resin.
Most of the keels that I saw were attached externally to the hull. These keels were cast in Mexico in cast iron. From what I know and what I saw at the Columbia facility in Costa Mesa, CA, the Columbia boats were glassed in a first class fashion with no waste on gel coat thickness or layers of glass. They were well built and the bulkheads were all glassed to the hull. Richard Valdes, was especially proud of the glassing on his boats and pointed out on several of our visits, that the compartmentalization of the bulk heads below the water line made his Columbia's extra strong and safe.
Some say that they overbuilt because they did not understand the nature of fiberglass. However, on our first visit to Costa Mesa, Richard Valdes was fully aware that they were using twice the amount of glass as required. He indicated that it was Lloyds that required them to build with heavy layups.
When I returned to boating three years ago after being land locked for seven years, I specifically looked at Columbia and Coronado in the 1970 to the 1975 years. These boats were build well and as a testament they had not had a blister problem. I believe that the problem with the blisters comes from marginal glassing with minimum gel coat thickness. The gel coats on the Columbia's ranges in thickness from 10 to 20 mils, a very heavy coating.
Whittaker/Columbia sold the Costa Mesa facility after 1975 to Westsail Yachts.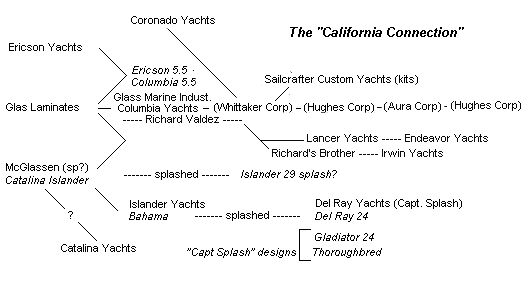 So there is the story. The only problem I see in it is that I didn't think the Costa Mesa plant was still in operation in 1972.
Shortly after I posted the Valdes story, I followed a Columbia mailing list post about a page giving information on holding tanks. Then I checked the site's (freelink.net) main page. They have sailing info, so I asked them to link in the Columbia site. They did so, and David Dennis, the site master, also sent the following
You might be entertained to see Dick Valdez' current venture, since I do the web page for it. http://www.mediterraneanyachts.com . Perhaps offensive for sailboat enthusiasts, but he's still a super guy.