!BASE HREF="http://www.columbia-yachts.com/">

Welcome to the
Home of the Columbia Yacht Owners Association
The Web Site dedicated to sharing information about Columbia sailboats.
Keel Laid December 19, 1997
---
Ahoy Mate! Glad you found your way here.
The Columbia Yacht Owners Association is simply a group of folks who own or have an interest in Columbia sailboats. How do you become a member? Just stay associated with us. The best way to do that is via one or both of the email discussion lists. Rules and Bylaws? The only rule is that there are no rules. However, it is considered good form to have fun. Dues? They are due whenever you can pay them. Payment is only accepted in the form of information, advice, sea stories, and comraderie. Welcome Aboard!
FYI -Eric has gone cruising. He's somewhere between here and there. If you run into him in port, buy him a drink and share your stories. I'll try to keep this ship on course...... Pat Ouellette
---
Looking for ...
October 2012
Columbia 34 #3
The second owner of Columbia 34 hull #3 is interested in finding out where she is now. Please forward any information to waltloyd(at)att.net
Columbia 30 #205 (a 1973 boat)
The original owners of Columbia 30 #205 are wondering where she is now. If you have any information on this boat, contact Rick Stiles rick(at)utilitysupplycompany.com.
Columbia Literature
When the original Columbia Yachts closed their doors in 1979 a lot of the engineering drawings, brochures, and manuals were saved by the last employee and stored over the years. They are now in the hands of Justin Thompson of Sailinfo. He has recently set up a website, BoatBrochure.com, where he lists much of the Columbia literature he has available. He also has literature for many other brands, too. This is a work in progress, so if you don't see what you want, drop him an email. Remember, Justin does this on the side and he is a one man operation, so sometimes he's a little late responding.
2008 Pacific Northwest Columbia/Coronado Rendezvous
2008 Pacific Northwest Columbia/Coronado Rendezvous is scheduled for the weekend of 17-18 May at Blake Island State Park's marina (a short hop across Elliot bay from Seattle). More details to follow but a great time should be had by all! Please contact Jack Rothrock at (206) 595-2151 or email rothrockmj(at)bowhead.com if you would like to attend, have questions, or just want to chat about Columbia yachts. Jack Rothrock 1971 Columbia 34 MKII Rondelet
New Columbia 30 Unveiled at the 2004 Annapolis Boat Show.
It's been what, 23 years or so since Whittaker Corp sold Columbia to Hughes and 16 years since production stopped completely? So how can you get a new Columbia 30?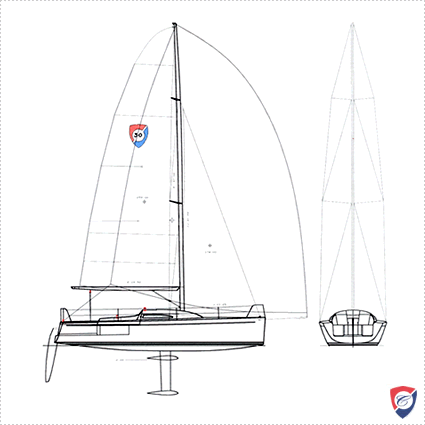 Vince Valdes, son of Columbia Yachts founder Dick Valdes, has been threatening to recreate the company. It's finally happened.
Get the whole story at the Columbia Yachts website. Then start saving your pennies.
Want Cool CYOA Burgees and Gear?

Columbia Yacht Owners Association coffee mugs, t-shirts, calendars - get them here.


Upcoming Outings
West Coast Rendezvous May 2005
Doug Ward did it again. He put together another great Columbia rendezvous. Check it out: 2005 SoCal Rendezous Check here if you would like to see what the 2002 rendezvous was like.
I will post other 2005 event info here as it develops. Check here for more info.
Pictures and Info from Past Gatherings

Pacific Northwest 'Vous 2004

Here are the pictures.

Western Michigan 'Vous, July 2003

Almost everyone made it. Lots of pictures.

Raftup on the Magothy, Chesapeake Bay, July 2003

Everyone did make it. The story.

C2 - The Annual Columbia Gathering in Columbia MD. Feb. 23, 2003

Roy Kelman does it again. Story and pictures.

Good Old Boat Regatta

Where's the best place to show off your boat? How about the Good Old Boat Regatta? This event took place on two consequtive Saturdays, the second is the weekend of the Annapolis Sailboat Show. (Note, the races are now held on the Saturday and Sunday of Boat Show Weekend.) We had two Columbias entered the first weekend and one the second. We also had a classic raftup the first weekend. In the races Pelago got a third place each weekend in the full keel handicap class.

Here are the articles about the two weekends' races as presented by The Capitol, Annapolis's newspaper:
Weekend One.
Weekend Two

Pacific Northwest Columbia Yachts Rendezvous

Jack & Jean Rothrock (Columbia 34 MkII Rondelet) planned a Puget Sound rendezvous 13-15 September at Point Hudson. Dave Mowers submitted this report.

Chesapeake Bay Columbia Yachts Rendezvous

Aug 24-25 Raftup south end of Herring Bay.

Oct 5-6 Raftup after the Good Old Boat Regatta.

Newport Beach, CA

This could was the big daddy of them all. On Feb. 23rd Doug Ward put together the rendezvous that will probably set the standard for all future events. There were 3 Columbia 50s, a Columbia 52, a Columbia 45,and more. The guest speaker was Dick Valdes, the original founder of Columbia Yachts. His son, Vince, was there, too. Check out the reports.

Grand Haven, Michigan

Not nearly as large as the Newport Beach, hoodad, but just as much fun. Here are some pictures.

Pacific Northwet

Jack Rothrock is planning a summer 2002 Pacific Northwest Columbia Yachts Rendezvous. More details to follow in January but for anyone interested, they may contact him at jack_rothrock@cocreate.com.

Here Are Some Past Outings

2002 Luncheon at Bertucci's - Columbia, MD. Roy Kelman hosted another great get together. Here are pictures.

Chicago Strictly Sail Gathering.

Chesapeake area Columbia owners brunch.

Columbia Rendezvous at Annapolis Boat Show.
Columbia Spotters Guide
So you think you know what a Columbia looks like? There were so many different models, that it takes experience and a practiced eye to spot them all. Dennis Lancaster has compiled a collection of diagrams from Columbia brochures. He is selling them as sets. The $15 charge gets you 85 pages of line drawings and specifications and covers all the sailboats that Columbia manufactured that we are aware of at this time. The book is "loose leaf" so that you can bind and customize as you see fit. Dennis has created a cover sheet with each model's Columbia Shield. They are in color, but the copying costs are too high to include hard copies as part of the package. He will provide the cover sheets as .JPG files compressed into as self-extracting .EXE file. The .EXE file is 263KB and Dennis will email it to you so you can print one or all of them on your own printer. The cover sheets in the book you will be getting are in black and white.

To order a copy send Dennis either a cashier's check or money order for the amount of $15.00 per book. Please include your name and mailing address clearly printed. Also, let him know if you want the .exe file e-mailed to you or not. If you do, please include your e-mail address.

Dennis will keep the initial order "open" until December 1, 2000. Then he will have the books printed. He estimates the printing process will consume about one week and then he will mail them out.

After December 1, 2000, Dennis will take orders for more copies, but he won't print books until he has orders for at least 6.

For more information, contact Dennis by email (no phone calls, please) dllbjl@home.com

Please mail your orders and money to:

Dennis Lancaster
1325 McLeod Rd.
Bellingham, WA 98226

Contacting Other Owners - E-Mail Discussion Lists!
There are two free, discussion areas supported by CYOA. They are great places to communicate with other owners. They are the where the CYOA meets. They have been likened to a virtual boat yard or club house or neighborhood tavern.

If you have never used an email list they are easy. You send an email to the list address, and the list server forwards it out to all list members. These are great places to find out more about your boat or about sailing in general. In addition to email, the site provides places to post pictures, archives, and other services. The best part is that they are free.

The Yahoo Groups area is most flexible. You have the option of accessing it through the a web browser, having the messages sent directly to your email account, or having a daily digest (all the messages for the day) sent to you in one email message.

You can use this link to sign up for the list at Yahoo Groups. During the sign up process there is a box to check (uncheck?) so you won't get ads emailed to you by Yahoo.


Click to subscribe to columbiasailingyachts

The other discussion area is a forum hosted by Sailnet. It also offers the option of getting each message in a daily or weekly digest.

Why two lists? It's a long story, but suffice it to say that two lists are enough. I try to make sure that general announcements like plans for raftups get announced on both lists.
New International Holiday!
| | |
| --- | --- |
| | The US Coast Guard web site lists Aug. 28, 1982 as the date that CLY, the Columbia Manufacturers Code (MIC) was retired. I hereby declare Aug. 28 as Columbia Yachts Day, a new international holiday. Please observe this day by lowering your flag to half staff, hoisting your sails, and spending the day on the water. |
---